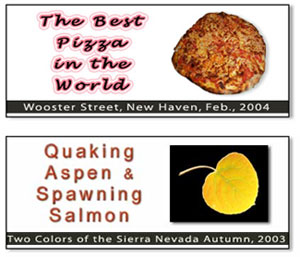 The application of multimedia formats to what was then the new concept of personal blogging about travel destinations coalesced for me in 2002 with the Travelblogs project. Avoiding video, but using photographs, Flash animations,and QuickTime VR (virtual reality) interactive panoramas, I began a series of pieces that explored interesting destinations in novel ways. The first effort, perhaps an effort to channel Hunter S. Thompson using new media, I entitled Fear and Loafing in the Mayan Riviera. Perhaps due to its comic take on the destination coupled with its plethora of "Easter egg" media artifacts, the piece earned a finalist slot in the 2003 SXSW "People's Choice" website competition.
The first two chapters in the project were created prior to my move to Nevada in 2003. But the remaining seven pieces were made during my first two years at the University of Nevada, Reno. Of these, six were documentations of my initial travels throughout Nevada.
While this project is still available online, it has not been updated to it entirely functional with newer devices. Much of the immersive media was originally created with Flash and QuickTime Virtual Reality (QTVR), two technologies that are no longer functional on modern browsers. Therefore, the only links that will function are those with at least some of their media updated to modern formats.
---
https://howardgoldbaum.com/travelblogs/
---