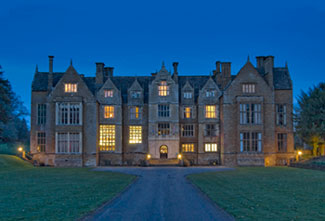 The history of Wroxton Abbey spans more than 700 years, from its beginning as a medieval priory, through its rise as a Jacobean mansion, to its life as the country estate of King George III's prime minister, Lord North, whose most notable (or notorious) accomplishment may have been losing the American colonies. In the modern era the Abbey was used as a warehouse during the Second World War, then as private apartments and, following its sale in 1963, as an overseas campus of Fairleigh Dickinson University.
The Virtual Wroxton Abbey allows a walk-through with 360° panoramas of Wroxton Village, all the public rooms of the Abbey, plus the estate's manicured gardens and forested footpaths.
With the collapse of the market for CD-ROM publications, the QuickTime VR Virtual Wroxton Abbey was re-launched in 2010 as a Flash-based project on the web. In 2014 it was revised a second time, with all of its virtual reality components reengineered in high resolution for optimal performance on different web-enabled platforms, using both Flash and HTML5. As an object lesson in the accelerating pace of technological obsolescence, the project which began its life as a disc-based Macromedia Director project in 2004 was required to migrate in only a decade's time through three different technologies.
---
---