Day 6- Kenmare to Anascaul
We left Kenmare this morning earlier than usual in order to make the boat to Skellig Michael. We drove for a couple hours on narrow mountain roads that led us to Derrynane Bay. Once we found the "winding road down to the sea," we stopped at a B & B to buy some sandwiches before heading off to our 6-hour adventure.
The road down to the bay was extremely narrow, and at one point, we were forced up the road in reverse to accomodate a small car coming from the other direction. We tried to turn the van around in a steep gravel driveway and almost didn't make it back up, but Howard's "professional" driving skills kept us on schedule.
Now, we had all heard about Skellig Michael. Howard had told us all about the rock in the ocean and how monks had lived there in isolation for hundreds of years. He hinted of a "boat ride" and a "hike", but none of us realized how big of an understatement that really was.
We spent a literally "rocking" hour and a half on a small, well-weathered, open-deck cruiser with three other people, the boat skipper, and his dog, a three-year-old retriever named Lemu. The voyage to the island of Skellig Michael was peaceful, but long. Most of us sat in silence as we took in the beauty of the various islands in the distance. Networks of crumbling stone walls gave the hills a cracked, and elderly appearance. However, from farther away, the permanence of their stone foundations was what struck me the most.
As the Skellig Islands transformed from a blur on the horizon into grand land masses, we began seeing birds. There is a smaller island near Skellig Michael known as the Little Skellig, and it is home to tens of thousands of gulls and puffins. They covered all sides of the island which weren't sheer rock face, and they flew in a cloud around the island often gliding directly over our small boat.
When we docked at the small landing area carved into the rock at Skellig Michael, we began to realize that we had our work cut out for us. We saw the stairs and realized quickly why this rock was named after St. Michael, the patron saint of high places. The island rises 700 feet from the ocean. Its sharp peaks and flowery slopes were more frightening than most of the cliffs we had seen in the mountains. Yet, we still braved the narrow, uneven, stone stairs that led to the bee-hive shaped stone huts at the top. The views were breathtaking, and the spiritual power of these ancient, yet well-preserved, dry stone buildings was intense.
The hike back down the stairs was even scarier than the way up. The open heights were dizzying, and Howard's story of a German tourist who fell to her death didn't help us either. Somehow, though, we all made it back down to where are boat was waiting.
The boat ride back began peacefully with a quick cruise around Little Skellig. The skipper was even kind enough to stop the boat so we could take some decent pictures. However, once we got going it started to rain. The rain was interrupted for a time by harder rain, but we didn't notice because of the freezing winds. All those who complained about lugging extra sweatshirts up Skellig Michael were now extremely grateful to have them.
When we got back to shore, we dried off, warmed up and started our long drive to Anascaul. We stopped briefly to take pictures of an old train bridge, and then again at Inch Strand to photograph the bluffs and the shoreline.
We made it to our B & B by 10:00 p.m. and it still wasn't dark. A couple people went to the pub next door, but most of us went to sleep early.
Note: I wrote this for the daily-update web site, and loking back, the sense of sarcasm is a little overwhelming. Skellig Michael was a truly spiritual place for me. I still ponder the remoteness of that island. I still can't believe that people actually lived there. Spirituality is a powerful thing, and although my spiritual symbol looks less like a cross and more like a question mark, I can still feel the power of that island. Skellig Michael still breathes a lonely whisper… "God."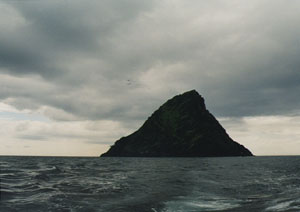 Skellig Michael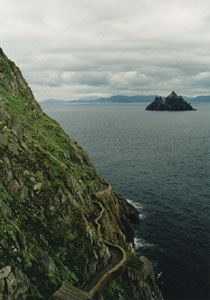 View of path along the rock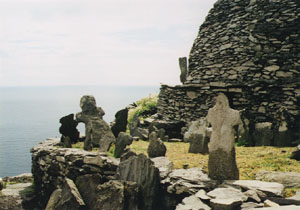 Graves on Skellig Michael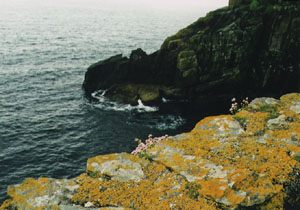 The rock face of Skellig Michael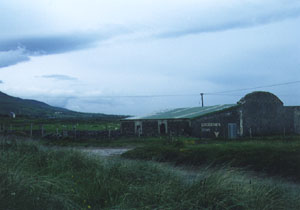 Sammy's original store on Inch Strand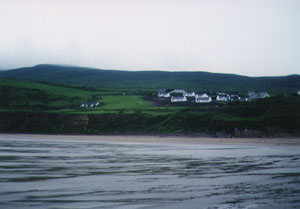 Inch Strand